Posted: July 6, 2011
Hi my Name is
LIL ROCKY
I've Been Here Since:
2011-04-03
DOB:
August 2010
Gender:
Male
Size:
Medium
My Behavior:
Click "Rocky's story" for a video link to his story:
Lil' Rocky and his brother are yet another rescue story from New Orleans. Found as small puppy by a good samaritan, they were basically skeletons draped over with skin. They could barely walk and if that wasn't bad enough they were infested with sarcoptic mange. But like a true Pit Bull, he and his brother bounced back in leaps and bounds. But Lil' Rocky started causing some mischief at his good samaritan's house so we took him on here at VRC. His puppy-like antics do keep you busy and he will need a fun household. He has to go be one of the silliest pooches we've ever had here. Though he is good with kids, they probably need to be a little older as he is a total wild child. But despite his energy level, he is soooo loving and adorable and a complete doll. Don't let his tough name fool you…the only rock in his name is Rock of Love.
Check out my Video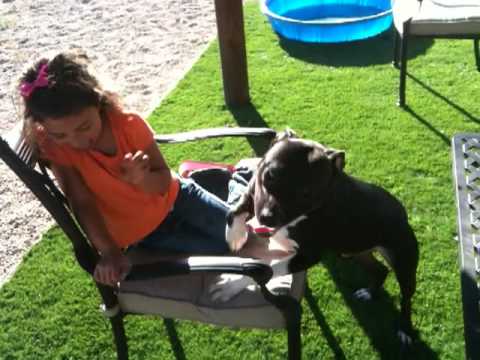 Interested in Adopting this Dog
We DO adopt dogs out of state but, WE DO NOT ADOPT DOGS OUT OF STATE IF YOU ALREADY HAVE AN EXISTING PET IN THE HOME
Help Support one of our Dogs

We have so many dogs that could use a little help to not only get them through each day but also help the non-profit keep our doors open. You can either pick one of our PIT PALS or pick a dog from our DOGS FOR ADOPTION. Remember, by doing this, you can come out and visit your sponsored Pit Bull in person and spend the day together. Be that special person in their life and show them that someone cares more about them, than the former owner who dumped them here. Help us, to help them. If you have any question please use our Contact Page.

Monthly Sponsorship

One time Donation
| | |
| --- | --- |
| Comments | Leave a Facebook comment |